08 Jul

2023 Top Real Estate Producer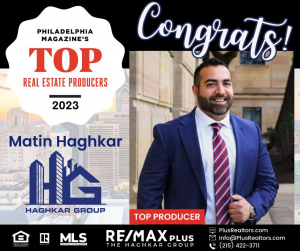 Congratulations to our exceptional broker, Matin Haghkar, for being recognized as a Top Real Estate Producer by Philadelphia Magazine!
Looking to buy or sell a property? Your search ends here! With over three decades of expertise, the exceptional team at RE/MAX Plus, led by Matin Haghkar, comprises top-notch real estate professionals. Our unwavering commitment is to become your preferred choice by delivering unmatched customer service and ensuring client satisfaction.
Whether you're an experienced investor or a first-time homebuyer, we comprehend the significance of well-informed decisions when it comes to your home purchase. Our skilled professionals, with a track record of success, will expertly guide you through the entire buying or selling process.
Our areas of specialization include Philadelphia, Montgomery, Delaware, Bucks, and Chester counties, as well as South Jersey.
Our associates are well-versed in various aspects such as residential purchases/listings, commercial purchases/listings, new construction, property management, investment properties, renovation projects, foreclosures/short-sales, vacant land/lots, and ground-up construction.
Furthermore, our office boasts a robust network of seasoned professionals in title, inspection, legal, accounting, insurance, and mortgage services.
These experts possess extensive knowledge of the local market and will provide you with top-notch assistance throughout your real estate transaction.
At RE/MAX Plus, we take pride in our extensive experience, exceptional customer service, and unwavering dedication to client satisfaction.
Allow us to be your trusted partner in your real estate journey. Reach out to us today to discuss your needs and let us empower you to achieve your real estate goals with utmost confidence!
Reach out today to discuss your plans for buying or selling real estate.
Bridgeport Office
5 W 5th St. Bridgeport, PA 19405
info@plusrealtors.com
P:(215) 422-3711
F:215.422.3811
Philadelphia Office
333 N 15th St Philadelphia, PA 19102
info@plusrealtors.com
P:267.244.1010
F:215.422.3811